Purim
at Chabad of Delray

| | |
| --- | --- |
| | Message from the Rabbi |
Purim at Chabad of Delray is a really happy and festive time where we celebrate the salvation of the Jewish people in ancient Persia.

Please join us at our main event and megillah reading. You can find more information about the holiday below.
Come join us in the Purim spirit!
Location: Chabad of Delray Beach
Date: Tuesday, March 10
Time: 5:00pm
Details:
Dress up
Live Music
Dancing
Mariachi Band
Hamantashen
Friends
Smiles all around
 

to Register on line click Here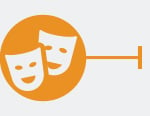 PURIM Party "Purim in mexico"
| | |
| --- | --- |
| | Megillah Readings |
To relive the miraculous events of Purim, listen to the reading of the megillah (the Scroll of Esther) twice: once on Purim eve, Monday night, March 09, and again on Purim day, March 10.

Monday Night – March 9th
@ Chabad:8:00 pm
Tuesday – March 10th
@ Chabad: 7:30 am morning services      Megillah  8:15 am
@ the Purim Party:5:00 pm
| | |
| --- | --- |
| | Give to the needy |
Concern for the needy is a year-round responsibility; but on Purim it is a special mitzvah to remember the poor.
Give charity to at least two (but preferably more) needy individuals on Purim day, March 10.
If you are not able to find a poor person, we are able to facilitate this great mitzvah for you. Click donate below to send a donation to our center (note that it's for this cause), and we will distribute it people in need.

| | |
| --- | --- |
| | Send Food Portions to Friends |
On Purim we emphasize the importance of Jewish unity and friendship by sending gifts of food to friends.
On Purim day, March 5, send a gift of at least two kinds of ready-to-eat foods (e.g., pastry, fruit, beverage) to at least one friend. Men should send to men, and women to women. It is preferable that the gifts be delivered via a third party. Children, in addition to sending their own gifts of food to their friends, make enthusiastic messengers.
| | |
| --- | --- |
| | Holiday Guide |